PRODUCTS & SERVICES / Economic, Social and Financial Assessments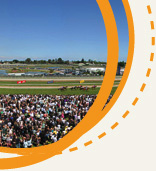 IER provides economic evaluations within two main frameworks.
Evaluations of the economic impact generated by an event
Estimation of the economic size and scope of an industry or organisation
IER has conducted economic impact assessments throughout Australia, New Zealand and North America and has a thorough understanding of the prevailing methodologies preferred. This is critical given the lack of consistency that exists across State, National and International boundaries in relation to the methodology required to undertake these assessments.
With approaches and methodologies changing frequently, IER puts a high priority in keeping up to date with the prevailing methodologies in each jurisdiction.
The most recent economic impact assessments completed by IER include:-
Victorian Spring Racing Carnival
National Impact of the Melbourne Cup
Australian Masters Golf
Jayco Herald Sun Tour
Australia v England Ashes Test Match
Santos City of Lights
Melbourne Winter Masterpieces
Whilst it has been historically overlooked when assessing events or organisations, social impact assessments provide a measure of the impacts that are not financial in nature. In recent years, increased government and public focus on community and the environment have lead to an increased need to measure these impacts. Social impacts generally fall within categories such as:
Community Building
Environment
Health & Wellbeing
Participation & Inclusiveness
Social & Cultural Capital
Education and Training
In comparison to economic impact assessments, the measurement of social impacts is in its infancy with much less time having been devoted to the establishment of measurement tools. IER has worked with a number of clients in determining the extent to which they are generating social impacts.
The most recent social impact assessments completed by IER include the following clients: - New Zealand Racing Board, South Australian Racing Industry, Racing and Wagering WA, Australian Racing Board.