PRODUCTS & SERVICES / Customer Research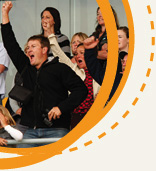 Quality information is the basis of successful decision-making. IER's Customer Research team provides customised and innovative solutions, tailored to specific event related requirements.
Whilst research is often a part of the broader strategic planning process, IER has also developed research solutions tailored to the sporting, racing, cultural events and tourism industry - through CustomerDirect.com.au.
Our role is to provide customer intelligence to our clients to assist in future planning and decision making. This may involve provision of information that assists clients in growing their current market or to introduce new customer segments.
IER can help you:-
Identify new product and market opportunities
Measure customer satisfaction
Understand customer behaviours and motivations
Determine growth opportunities through customer loyalty and advocacy
Develop new event and hospitality products
Understanding buyer behaviour
Benchmarking and Forecasting
Customer and market profiling
We offer a number of research techniques, including:

Quantitative:

Online Surveys
Telephone Surveys
Face-to-face Surveys
Mail Surveys

Qualitative:

Focus Groups (Face-to-face and on-line)
In-depth interviews
Quality Standard Assessments for events

On-line Panels
Stakeholder consultation