PRODUCTS & SERVICES / Strategic Planning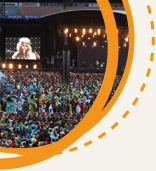 IER's strategic planning capabilities are built on a strong understanding of the customers and participants in the sporting, racing, cultural events and tourism industry.
The strategic frameworks developed by IER are based upon effective collection of market intelligence and practical, action driven strategic directions. Our past practical experience with the management of temporary infrastructure and event planning at some of Australia's largest events provides IER with the ability to maintain a practical focus when developing strategic plans. This is further enhanced by our proven ability to extract detailed market intelligence through our customer research and economic assessment methods.
IER has extensive experience in all facets of strategic planning including:
Stakeholder consultation
Strategic workshops
Customer research
Secondary research
Financial assessment
Market, competitor and situation analyses
Establishment and measurement of Key Performance Indicators
Whilst the abovementioned disciplines all form an important part of the strategic planning process, IER places great emphasis on the generation of ideas for growth and the specific and achievable actions required to implement them.